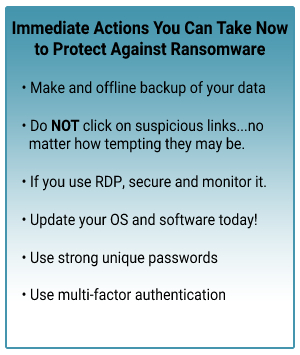 The Federal Bureau of Investigation (FBI) and the Cybersecurity and Infrastructure Security Agency (CISA) released a Joint Cybersecurity Advisory urging organizations to ensure they protect themselves against ransomware attacks during holidays and weekends — when offices are normally closed.
Although the FBI and CISA do not currently have any specific threat reporting indicating a cyberattack will occur over the upcoming Labor Day holiday, malicious cyber actors have launched serious ransomware attacks during other holidays and weekends in 2021.
This Joint Cybersecurity Advisory identifies both immediate and longer-term actions organizations can take to protect against the rise in ransomware. Additionally, it provides an overview of the threat, ransomware trends, best practices, recommended mitigation measures, and is being provided to assist agencies and organizations in guarding against the persistent malicious actions of cybercriminals.
Reporting
The NJCCIC encourages recipients who discover signs of malicious cyber activity to contact the NJCCIC via the cyber incident report form at www.cyber.nj.gov/report.

Do not hesitate to contact the NJCCIC at njccic@cyber.nj.gov with any questions. Also, for more background on our recent cybersecurity efforts please visit cyber.nj.gov.
For more details about cybersecurity measures you can take today contact us at Radiant Resources. We are here to help organizations like yours prepare, protect, detect, respond and recover along all points of the cybersecurity lifecycle.