While all businesses are challenged in their efforts to provide strong cybersecurity for their organizations, many small businesses have to accomplish this work with a 1 or 2 person IT staff. With roughly 5 million data records compromised every day across the world, protecting your business 7x 24 with a small IT team is a tall order. Strong data protection and cybersecurity solutions help, but many small organizations simply do not have the budget to implement all of the protection they require. New risks arise every day and small businesses are increasingly becoming a target.
In much the same way that small businesses outsourced their infrastructure management, many companies are now turning to cybersecurity MSPs to supplement their data protection. These specialists can offer a higher level of expertise, and deploy tools that would be complex to manage for a small team…real-time event monitoring, vulnerability detection, and other security hardening tools. These MSPs can assist your team in identifying gaps and developing strategies to close them. Many also provide rapid remediation services in the event of a breach. Consider these three reasons to outsource your cyber protection: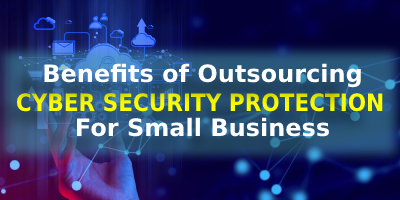 Expertise: A traditional IT professional acting as a security manager cannot match the specialized knowledge, technology, and resources available through a dedicated cyber security professional. Outsourcing your organization's cyber protection to a dedicated cyber security service provides you with access to certified experts with proprietary threat intelligence and understanding of the current threat landscape.
Focus and Productivity: While having your staff research the solution to a cyber-related issue can seem like a cost-saving approach, it tends to be the opposite. Working with a sophisticated security organization will allow your in-house team to support the technology that you need to help your small business grow.
24x7 Support and Service: Cyberattacks frequently occur outside of business hours. Rapid incident response is crucial during a cyber-attack. Having a cyber security service on call around the clock can ensure your organization is able to respond and remediate cyber threats quickly and efficiently IT professionals are highly knowledgeable and can implement solutions far more painlessly, and it just makes sense for small businesses.
Outsourcing your cyber protection does not mean ditching your in-house IT team. The expertise gained from partnering with a dedicated security team should complement the business-specific knowledge of your existing staff.
Cybersecurity threats are always evolving and extend well beyond the business enterprise, affecting many aspects of our daily lives. To take preventative steps and implement ongoing Security Awareness Training at your organization, contact Radiant Resources today.